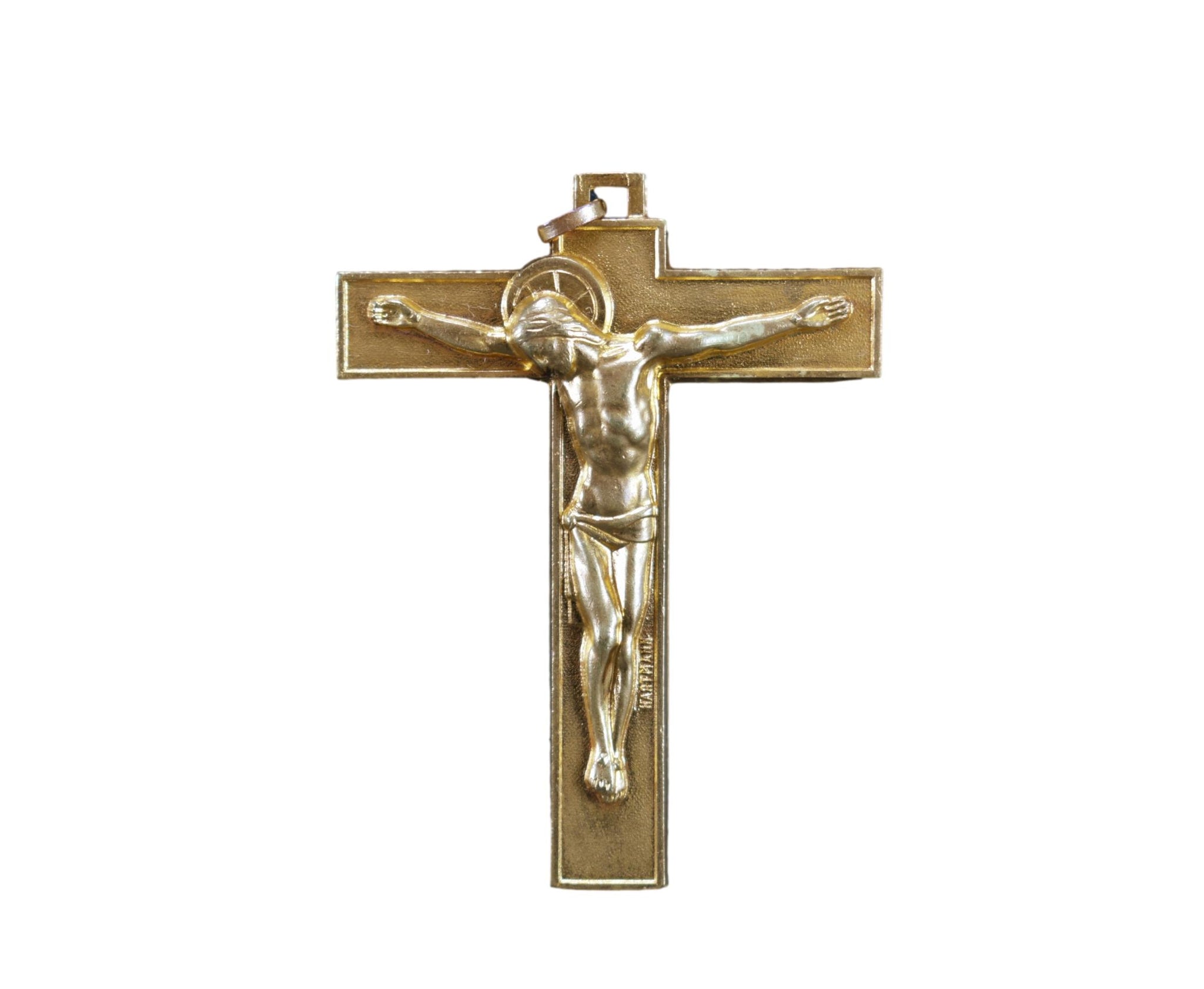 Hartmann Crucifix Pendant
Authentic French pectoral cross pendant, dating to the 1930's. The Art Deco medal is made of ormolu bronze (gold plated bronze). It has been signed by the couple of artists Hartmann.

"Jacques Hartmann (1908-1994) and Suzanne Laurens (1904-2003) worked as a couple. Suzanne Laurens was a student of Julio Vaz in Lisbon, of Teixeira Lopes in Porto, then followed the courses of Pierre Sicard at the School of Fine Arts in Paris. Jacques Hartmann trained with Paul Croix-Marie, restorer of Gothic sculptures. Jacques and Suzanne met in Paris in 1931 and married in 1933. That year, they participated in a competition organized by the city of Lourdes, which wished to erect a monument to Bernadette Soubirous. The Hartmanns won the first prize. The sculpture was made of bronze. It will be placed in front of the hospice, at the foot of the pool. Having noticed them, the bishop of Lourdes, Pierre-Marie Gerlier, commissioned them in 1936 to create a statue of Bernadette for his sanctuary: Bernadette with a lamb (in Carrara marble). It will be placed along the Esplanade, surrounded by sheep a little unexpected.
Suzanne and Jacques Hartmann now work together on commission. They co-signed their religious works in the Sulpician style as "J.S. Hartmann".
The Hartmann sculpted marble, bronze and stone and made especially monumental religious statues.
The workshop in Allex: Thanks to the Fathers of the Holy Spirit of Allex for whom they worked, the Hartmanns settled in this village in the Drôme in 1940. In this workshop, they produce more than three hundred sculptures in terracotta, stone, wood, bronze or reconstituted stone for the whole world."

Good antique condition with some traces of ages like wears on the gold tone.
Please take a close look at the photos, they are an integral part of the description.

Height: 2 7/8" (7.3cm)
Width: 2 1/8" (5.5cm)
Weight: 27g

Worldwide tracked and insured FREE shipping.